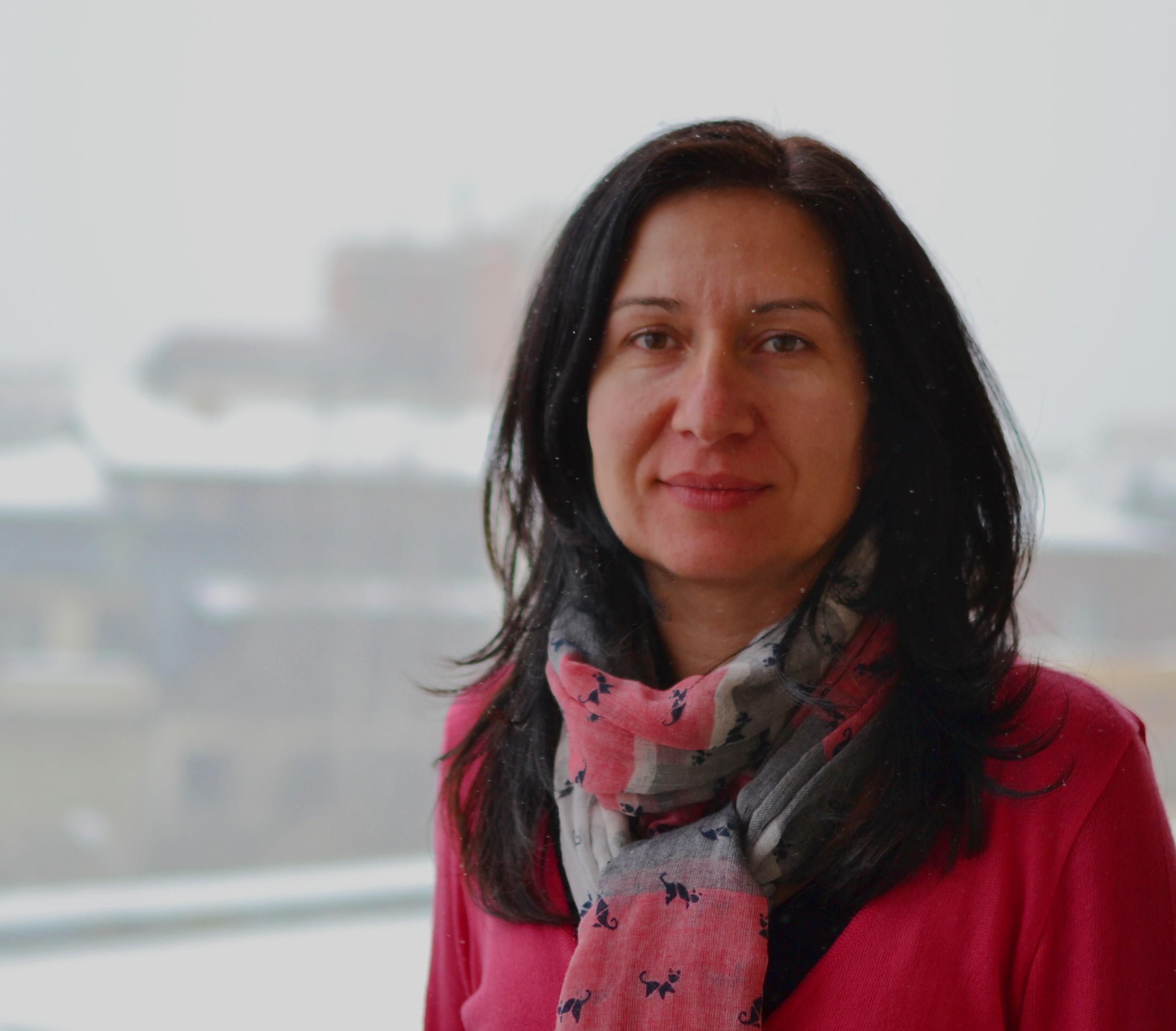 Personal Data
Postition:
Forecaster at NIMH
Email:
anastassia.stoycheva @meteo.bg
Address
National Institute of Meteorology and Hydrology, 66 Tsarigradsko Shose blvd, Sofia 1784, Bulgaria
Research Interests
Operational weather forecasting
Application of GNSS tropospheric products in nowcasting of convection and fog
Publications: Articles in Journals
Publications: Articles in Books
Stoycheva A., N. Penov and G. Guerova, "Investigation of fog in Bulgaria using GNSS tropospheric products", in COST Action ES1206: Advanced Global Navigation Satellite Systems tropospheric products for monitoring severe weather events and climate, Jones J., G. Guerova, J. Dousa, G. Dick, S. de Haan, E. Pottiaux, O. Bock, R. Pacione, R. van Malderen [editors], Springer [publisher], 2020, 206-210, doi:10.1007/978-3-030-13901-8_4.
Publications: Conference Proceedings
Guerova G., A. Stoycheva, and I. Manafov: Use of GNSS tropospheric products and numerical weather prediction model to study fog in Bulgaria, Proceedings of the 5th International Colloquium - Scientific and Fundamental Aspects of the Galileo Programme, Braunschweig, Germany, 27-29/10/2015.
Stoycheva А. and G. Guerova, "Fog case studies using the GNSS tropospheric products in Bulgaria", FIG working week, 17-21/05/2015, Sofia, Bulgaria.
Yordanova N., G. Guerova and A. Stoycheva: Application of GNSS meteorology for intense precipitation case studies in Bulgaria, Proceedings of the 2nd National Physics Congress, 26-29.09.2013, Sofia, Bulgaria.
Oral and poster presentations
Tsalova S., A. Stoycheva, K. Stoev and G. Guerova "Mediterranean cyclones and severe weather warnings in Bulgaria", 2nd Annual Workshop: Climate and Atmosphere Research & Innovation in the Eastern Mediterranean & Middle East, 1 November 2022, virtual.. (oral)
Guerova, G., Dousa, J., Dimitrova, T., Stoycheva, A., Václavovic, P. and Penov, N., "GNSS storm nowcasting demonstrator for Bulgaria", 8th International Colloquium Scientific and Fundamental Aspects of GNSS, 14-16 September 2022, Sofia, Bulgaria. (oral)
Penov N., A. Stoycheva, J. Dousa, P. Vaclavovic and G. Guerova "GNSS Fog nowcasting demonstrator for Sofia", 8th International Colloquium Scientific and Fundamental Aspects of GNSS, 14-16 September 2022, Sofia, Bulgaria. (oral)
Tsalova S., A. Stoycheva, K. Stoev and G. Guerova "Mediterranean cyclones and severe weather warnings in Bulgaria", 8th International Colloquium Scientific and Fundamental Aspects of GNSS, 14-16 September 2022, Sofia, Bulgaria. (oral)
Guerova, G., Dousa, J., Dimitrova, T., Stoycheva, A., Václavovic, P. and Penov, N., "GNSS storm nowcasting demonstrator for Bulgaria", 1st workshop "Data science for GNSS remote sensing", 13-15 June 2022, Potsdam, Germany. (oral)
Penov N., A. Stoycheva and G. Guerova "Fog climatology and stability index for Plovdiv 1991-2018", EMS Annual Meeting 2021, online, 6–10/09/2021. (poster)
Stoev K., A. Stoycheva and G. Guerova, "Use of GNSS tropospheric products to study the foehn in Sofia", 2018 EMS Annual Meeting: European Conference for Applied Meteorology and Climatology, 3-7 September 2018, Budapest, Hungary. (oral)
Guerova G., Tzv. Simeonov, M. Slavchev, A. Stoycheva, B. Mircheva, "Bulgarian contribution to COST Action Advanced Global Navigation Satellite Systems tropospheric products for monitoring severe weather events and climate (GNSS4SWEC)", 3nd National Physics Congress, 29/09-2/10/2016, Sofia, Bulgaria. (oral)
Stoycheva A., I. Manafov, K. Vassileva, G. Guerova, "Monitoring Prolonged Fog in January 2014 at Sofia with Sofia Stability Index and GNSS Tropospheric Products", 3nd National Physics Congress, 29/09-2/10/2016, Sofia, Bulgaria. (oral)
Stoycheva A., G. Guerova and K. Vassileva, "Fog case study with GNSS tropospheric products, Sofia Stability Index and WRF model", 16th EMS Annual Meeting & 11th European Conference on Applied Climatology, 12-16/09/2016, Trieste, Italy. (oral)
Stoycheva A., I. Manafov, K. Vassileva and G. Guerova, "Monitoring fog at Sofia Airport using GNSS tropospheric products and Sofia Stability Index", 3rd GNSS4SWEC workshop, 8-10/03/2016, Reykjavik, Iceland. (oral)
Guerova G., A. Stoycheva, and I. Manafov: Use of GNSS tropospheric products and numerical weather prediction model to study fog in Bulgaria, 5th International Colloquium - Scientific and Fundamental Aspects of the Galileo Programme, Braunschweig, Germany, 27-29/10/2015. (oral)
A. Stoycheva and G. Guerova, "Study of fog dynamics in Bulgaria with the GNSS tropospheric products", EMS & ECAM 2015, 7-11/09/2015, Sofia, Bulgaria.(oral)
Stoycheva А. and G. Guerova, "Fog case studies using the GNSS tropospheric products in Bulgaria", FIG working week, 18/05/2015, Sofia, Bulgaria. (oral)
Yordanova N., G. Guerova and A. Stoycheva "Application of GNSS meteorology for intense precipitation case studies in Bulgaria", EGU General Assembly 2014, Vienna, Austria, 27/04-02/05/2014. (poster)