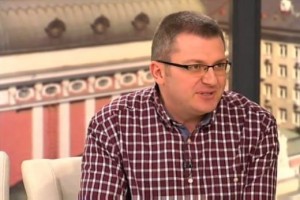 Personal Data
Postition:
PhD student, Forecaster at NIMH
Email:
krasimir.stoev@meteo.bg
Thesis
MSc
Address
National Institute of Meteorology and Hydrology, 66 Tsarigradsko Shose blvd, Sofia 1784, Bulgaria
Research Interests
Operational weather forecasting & nowcasting
Severe weather and Mediterranean cyclones
Publications: Articles in Journals
Stoev K., G. Guerova and I. Gospodinov, 2019. Mediterranean cyclones and foehn synoptic situations for the period 1975-2001, Bul. J. Meteo & Hydro, 23/1 .
Stoev K., A. Stoycheva and G. Guerova, Foehn in Sofia as extreme weather event: 1993-2014, Weather and climate extremes, in review 2020.
Stoev K.and G. Guerova, Foehn classification and climatology in Sofia for 1975-2014, Idojaras, in press, 2020.
Publications: Articles in Books
Stoev K. and G. Guerova, "Case studies of foehn in Sofia with GNSS tropospheric products", in COST Action ES1206: Advanced Global Navigation Satellite Systems tropospheric products for monitoring severe weather events and climate, Jones J., G. Guerova, J. Dousa, G. Dick, S. de Haan, E. Pottiaux, O. Bock, R. Pacione, R. van Malderen [editors], Springer [publisher], 2020, 217-221, doi:10.1007/978-3-030-13901-8_4.
Publications: Conference Proceedings
Stoev K., G. Guerova and K. Vassileva, "Use of GNSS tropospheric products to study the foehn in Sofia", 6th International Colloquium Scientific and Fundamental Aspects of the Galileo Programme, 25-27 October 2017, Valencia, Spain.
Oral and poster presentations